WELL CHILD VISITS (For ages 18 and under)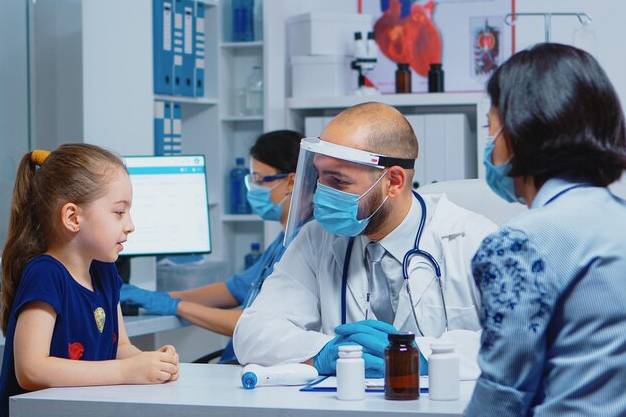 It is very important for children of all ages to get preventive care visits with their doctor. These visits are also called well-child visits or wellness visits. The goal of these visits is to track growth and development, identify any developmental delays early on, address any concerns the parents might have at various stages of their growth.  This offers a team-based approach for your child to grow physically, mentally and socially in a well-rounded manner to set them up for success. 
Recommendations for screening in children:
| | |
| --- | --- |
| S.No | Screening |
| 1 | Physical exam, every year/as instructed by your physician, you can see the full schedule here. |
| 2 | Anemia screening |
| 3 | Age-appropriate immunizations |
| 4 | Vision screening |
| 5 | Hearing screening |
| 6 | Oral health risk assessment |
| 7 | Autism and Developmental screening for children under age 3. |
| 8 | Counselling on the harmful effects of smoking and illicit use of drugs (children and adolescents). |
| 9 | Counselling for children on promoting improvements in weight. |
| 10 | Screening certain children at high risk for depression, tuberculosis and sexually transmitted diseases. |
Are well child visits covered by insurance?
Well visits are covered 100% by most insurance companies. 
How many well child visits are covered in the first year?
During the first year, the American Academy of Pediatrics recommends: The first week visit (3 to 5 days old) · 1 month old · 2 months old · 4 months old · 6 months old · 9 months old · 12 months old visits. Please check with your insurance provider.
Do I have to pay a copay for a well child visit?
You do not have to pay a copay for this care because it is preventive care and is covered by most insurance plans.
Are Sports physicals same as Well visits?
Sports physicals focus on your physical fitness pertaining to a sport, where as a Well visit is much more comprehensive assessment about the growth, development and immunizations.
Are Sports physicals covered by insurance?
Sports physicals are typically not covered by insurance, we charge $25 for a Sports physical.
How can I make an appointment for an Annual Wellness Visit?
You can use the following link: https://book.quickmdcare.com/lite/book
or call 972-645-9400 for an appointment.